Greetings Symphony Village Residents:
As you may be aware, bagworms devour and destroy trees and shrubs. Unfortunately, the infestation is extremely prevalent on the Eastern Shore this year, even more so than in the past. The number of locations in the community currently impacted by bagworms is estimated to now exceed the twenty-six (26) locations identified in 2019. It's important to confront this problem as soon as possible to avoid complete loss of your tree/shrub and prevent bagworms from spreading.
Please carefully examine under all branches of your trees and shrubs today or as soon as possible. An infected tree/shrub will not get better without help. You can tell if your tree/shrub has bagworms by seeing the bags (pictured below) hanging from twigs and branches of trees/shrubs. These camouflage bags, which can be green or brown, contain the larvae.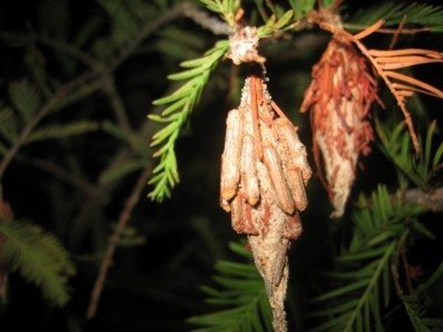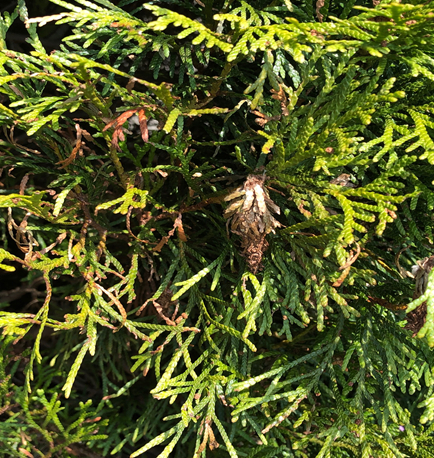 In order to facilitate the treatment and help reduce the spread, Bartlett Tree Experts is offering bulk rate pricing for trees/shrubs located on residential property being impacted by bagworms. Pricing will vary depending on the number of homes that opt to participate in the treatment. Please be advised that this is not a preventative treatment. This treatment is only for actively feeding Bagworm Caterpillars.
Please note that owners are neither obligated to contract with Bartlett Tree Experts to perform the treatment, nor is the contractor being endorsed by the Association or Management. Additional techniques to address bagworms include but are not limited to the following:
Pick their bags/nests off the tree/shrub or cut their bags/nests in half to kill the larvae. Place all insect bags/nests into a plastic bag and tie it tight to keep them from escaping.

Spray the bags/nests with a strong insecticide. This time of year, however, spraying may only be partially effective. The insecticide may also harm other beneficial insects, so please ask a local arborist or tree service if you need help.

Contract with a professional contractor of your choice.
If you wish to contract with Bartlett Tree Experts for the treatment, please contact them directly no later close of business this Friday, July 31st at 410-643-5700. Any/all treatment is tentatively scheduled to take place on Monday, August 3rd. The Management office will NOT be maintaining a list of residents who wish to participate. Residents/owners will be responsible for the cost of treatment of trees/shrubs/plant material on their property. Any questions or concerns regarding treatment at your property should be directed to Bartlett Tree Experts at 410-643-5700.
The cost for treatment, depending on participation, is as follow:
| | | |
| --- | --- | --- |
| Number of Households Participating | Treatment of 1-3 shrubs/trees on the lot | Treatment of 4+ shrubs/trees on the lot |
| 1-5 | $105 | $155 |
| 6-14 | $85 | $135 |
| 15+ | $75 | $115 |
For questions and updates as it relates to pricing or chemical information, please contact Bartlett Tree Experts directly at 410-643-5700.
If you see evidence of bagworms on a tree that is not on your property, especially a common area tree, please place a work order by clicking here. Please note that each SVHOA common area tree has a tag halfway up the trunk. The tags are oval-shaped discs, silver in color and have a four (4) digit ID number.
Thank you for your attention,
Symphony Village HOA Management