Greetings Symphony Village Residents,
ATTENTION PLEASE – GARDEN DEFOLIANT ALERT!
Bagworms devour and destroy trees and shrubs. Around this time last year, twenty-six (26) locations within the community were identified with bagworms. It's important to confront this problem as soon as possible to avoid complete loss of your tree/shrub and prevent bagworms from spreading.

SUGGESTED ACTION: Please carefully examine under all branches of your trees and shrubs today or as soon as possible. An infected tree/shrub will not get better without help. You can tell if your tree/shrub has bagworms by seeing the bags (pictured) hanging from twigs and branches. These camouflage bags, which can be green or brown, contain the larvae.
There are two primary ways to kill the insects. Pick their bags/nests off the tree/shrub or cut their bags/nests in half to kill the larvae. Place all insect bags/nests into a plastic bag and tie it tight to keep them from escaping.
The second alternative is to spray the bags/nests with a strong insecticide. This time of year, however, spraying may only be partially effective. The insecticide may also harm other beneficial insects, so please ask a local arborist or tree service if you need help.
Please place a work order by clicking here if you see evidence of bagworms on a tree that is not on your property, especially a common area tree. (Each SVHOA common area tree has a tag halfway up the trunk. The tags are oval-shaped discs, silver in color and have a four (4) digit ID number.)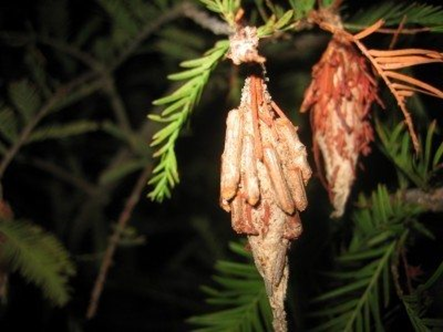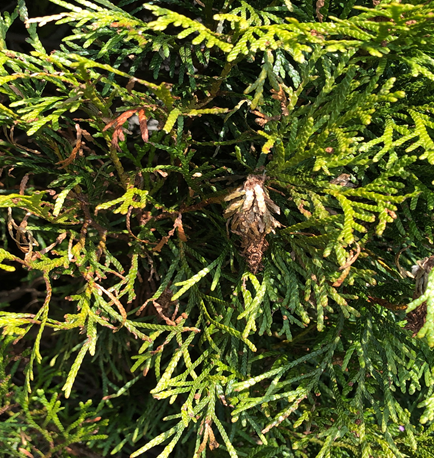 Thank you for your attention,
Symphony Village HOA Management