Symphony Village Residents,
Free COVID-19 testing will be offered by Queen Anne's County Department of Health in Concert Hall B on the dates noted in the flyer below. The testing is being offered to Symphony Village residents only and the testing area will be isolated from the rest of the Clubhouse. For testing, residents will be asked to use the outside access door that leads directly to Concert Hall B and exit thought on the far side of the room. Please also note the additional information as it relates to obtaining test results listed below the flyer.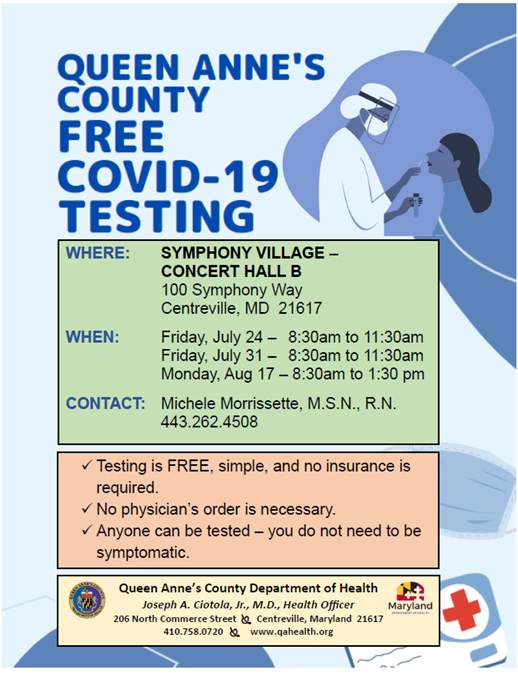 Per Queen Anne's County Department of Health:
YOU WILL BE CALLED with your test result as soon as possible. Please note, labs may take up to two weeks to process and return to the Department of Health. The Department of Health is unable to provide a paper copy of lab results. If you were tested at the health department by LabCorp, you can obtain your test results by visiting www.labcorp.com/results. To create an account if you do not have one, you will need: first name, last name, gender, date of birth, address, phone number, and email address. To sign in to your account, you will need your email address and the password you created.
Please do not call the Department of Health to get your results. This will only delay our ability to contact you.
Thank you for your attention,
Symphony Village HOA Management