Greetings Symphony Village Residents:
This is a reminder that the application of pre-emergent/crabgrass weed treatment and fertilizer to the common and residential turf is tentatively scheduled to begin today, Wednesday, April 1st.
The application will be completed over a three (3) day period. Application zones outlined in yellow, red and orange on the map below correspond with each of the three (3) days. The application of the treatment will be completed in one (1) zone each day and is tentatively scheduled for the following dates:
DAY ONE (YELLOW): Wednesday, April 1st
DAY TWO (RED): Thursday, April 2nd
DAY THREE (ORANGE): Friday, April 3rd
The dates above are pending weather conditions. Notification will be sent for any scheduling changes.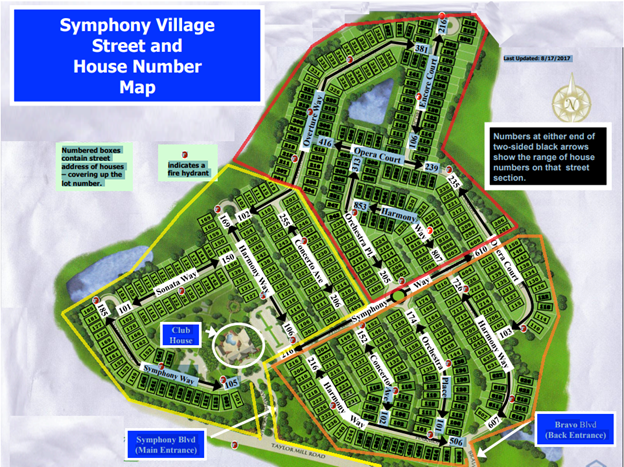 Areas will be flagged as the fertilizer and pre-emergent/crabgrass weed treatment is applied. The flags will be removed in a timely manner to indicate the areas in which the treatment has fully absorbed. Please note that the unflagged areas may be utilized to walk pets until the treatment has fully absorbed.
The first mowing is tentatively scheduled for next Wednesday, April 8th following the completion of the fertilization and pre-emergent application. Level Green Landscaping recommends the mowing be completed after the turf application in order to prevent the spread of weed seeds. The application will still be effective in areas where the turf is longer.
Please note that Level Green Landscaping will monitor the turf following the application to ensure mowing will not negatively impact the effectiveness of the application.
Thank you for your attention,
Symphony Village HOA Management